Nils Zurawski
Dr. habil. Nils Zurawski
"Kritische Wissenschaft dient immer dem Frieden, denn trotz allem gibt es keinen anderen Weg, auch wenn er noch so schwer zu erkennen ist. Das treibt mich an und ist die Motivation für meine Arbeit."
Kontakt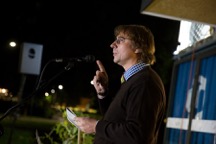 Institut für kriminologische Sozialforschung, Allendeplatz 1, 20146 Hamburg
E-Mail: nils.zurawski@uni-hamburg.de
Webseite: www.surveillance-studies.org/zurawski
Wissenschaftlicher Werdegang
 1990-1994 Studium in Münster, Soziologie, Ethnologie, Geographie, 1999 Promotion (Uni Münster), 2000-2001 Feldforschung in Nordirland; verschiedene Projekte seit 2003 an der Uni Hamburg, 2013 Habilitation (TU Darmstadt), 2015 Mediationsausbildung, seit 2012 Mitwirkung im Curriculum peacebuilding
Schwerpunkte in Forschung und Lehre
Überwachung, Stadt und Raum, Gewalt, Identität, Sicherheit, Frieden und Konflikt, Kriminologie, Nordirland, qualitative Methoden, Ethnographie
Publikationen
 Gerrit Herlyn & Nils Zurawski (Hg.): Achtung Sicherheitskontrollen! Flughäfen, Kultur und Un/Sicherheiten. Münster 2015.
 Nils Zurawski. Raum-Kontrolle-Weltbild.Raumvorstellungen als Grundlage gesellschaftlicher Ordnung und ihrer Überwachung. Mai 2014 bei Budrich UniPress.
Maguire, C. Frois, N.Zurawski: Anthropology of Security, Perspectives from the Frontline of Policing, Counter-terrorism and Border Control Pluto Press 2014
Nils Zurawski: Frieden trotz Spannungen? Warum der nordirische Friedensprozess ein Erfolg ist, in: Borchardt, Dörfler-Dierken & Spitzer: Friedensbildung – Konzepte und Methoden. Der Hamburger interdisziplinäre Ansatz. V&R unipress. 2014.
Nils Zurawski: Divided by Design. On cognitive maps and material culture in the Northern Ireland conflict, in: Yana Milev (Hg.): D.A. A Transdisciplinary Handbook of Design Anthropology. Frankfurt, Main / New York, Peter Lang (2013)
Nils Zurawski: Die innere Freiheit von Demokratien: Befördert oder gefährdet durch Sicherheitsforschung? In: Nielebock, Thomas/ Meisch, Simon/ Harms, Volker (Hrsg): Zum Frieden verpflichtet. Chancen und Herausforderungen universitärer Zivilklauseln. Baden-Baden: Nomos 2012.
---